Message from Dean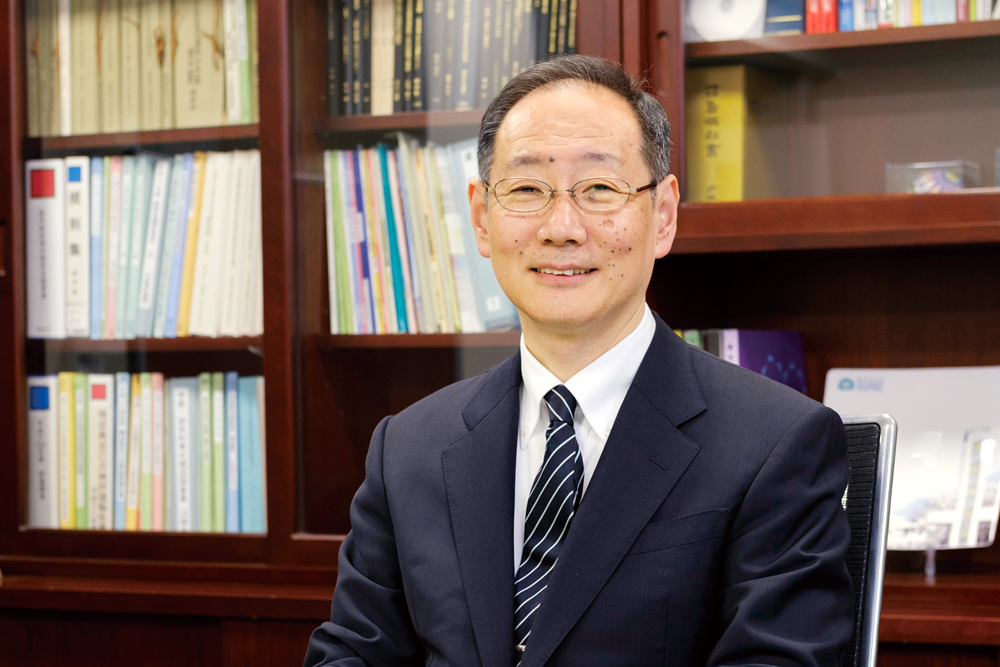 What distinguishes graduate school from an undergraduate faculty is whether or not research is undertaken there. Research plays a central role at graduate school level; what is meant here by "research" is undertaking in-depth study in a particular field. At the Graduate School of Humanities and Social Sciences, as the name suggests, we are particularly focused on undertaking research in the fields of humanities and the social sciences.
Research is something that anyone is potentially capable of doing. Having said that, academic disciplines that have been in existence for a long time have steadily accumulated research results over the years, so unless you already have a solid grounding in the subject it can be difficult to reach the level of being able to conduct original research in that field. The role of a graduate school is to provide the basic training that is needed in order to be able to perform research properly.
However, this involves more than just a uni-directional transmission of knowledge from faculty members to the students. Nowadays, basic knowledge in most fields is available to anyone; most of the knowledge that is taught in university at undergraduate level or in graduate school can be accessed elsewhere. The role of the university is as a place for training in actually being able to use knowledge. University faculty members just happen to have accumulated slightly more knowledge, and more experience, than their students. There are still many problems that need to be solved, and many issues that need to be explored. University professors play a guiding role, helping to stimulate students' curiosity and desire to explore new areas; professors and students can work together to develop new avenues for research.
Faculty Introduction
The Graduate School of Humanities and Social Sciences was established in 1998 through the merger of Kagoshima University's existing Graduate School of Law, Economics and Social Systems (established in 1979) and Graduate School of Humanities and Social Sciences (established in 1986), which was undertaken to facilitate continued development. Currently, the Graduate School of Humanities and Social Sciences comprises four MA courses (Law, Economic and Social Systems, Humanistic-Environmental Cultural Science, and International Cultural Sciences), and one PhD program (Social Sciences). Within the PhD program, there are three courses of study: Regional Policy, Cultural Policy, and Islands Policy.
Besides undertaking high-level research and education in each individual specialist field, the Graduate School of Humanities and Social Sciences also undertakes practically-oriented research in close collaboration with local communities, with a particular focus on project-based research. In addition, we have adopted a proactive approach to the enrollment of mature students, by implementing a system that combines daytime and evening classes, and we provide classes on outlying islands through the Amami Access Centre (which opened on Amami-Oshima Island in 2004, followed by the establishment of a branch campus on Tokunoshima Island in 2007). Through initiatives such as these, we are proactively meeting the needs of adult learners who wish to take a Master's degree or PhD.
Organization
MA Course
Law
Economic and Social system
Humanistic-Environmental Cultural Science
International Cultural Sciences
PhD Course
Administrative Staff
Dean

 Takatsu
Takashi

Literature and the examination system in Song Dynasty China; publishing traditions in Ryukyu; natural history research in the Satsuma Domain.

Associate

Hagino
Makoto

Management information Dean studies
Current Number of Staff
MA Course

Law

18

Economic and Social system

23

Humanistic-Environmental Cultural Science

23

International Cultural Sciences

24

PhD Course

Social Sciences

32
History
March 1901
Seventh Higher Zoushikan School Established
March 1946
Renamed as the Seventh Higher School.
May 1949
Kagoshima University Established. Using the Seventh Higher School's general education course as a base, the Literature, Sociology and Science faculties were created.
April 1965
Establishment of the Faculty of Law, Economics and Humanities with the law, economics and literature departments.
April 1979
Introduction of post graduate law studies.

Literature Department restructured as the Humanities Department.

April 1986
Introduction of humanities post graduate studies.
April 1997
Departments restructured as the Law and Political Policy, Economic Information and Humanities.
April 1998
Introduction of post graduate studies for Humanities and Social Science Department
April 2003
Introduction of the Social Sciences PhD course.
April 2004
Introduction of School of Law (Judiciary Policies) post graduate studies.
April 2007
Introduction of post graduate studies in clinical psychology.
April 2017
Faculty reorganizes into the Department of Law, Economics and Sociology (Course of Law, Course of Community Studies and Course of Economics) and the Department of Humanities (Course of Area and Cultural Studies and Course of Psychology)
Facilities
The Regional Management Research Center
The Regional Management Research Center was established with the aim of contributing towards the development of management in the local community. The Centre's objectives are not limited to strengthening business management in the community; the focus has been expanded to include supporting local government administration, and developing solutions for the various problems that affect Southern Kyushu.
Another objective of the Amami Access Centre is to provide support for Graduate School education in relation to the humanities and social sciences.
For information on the Regional Management Research Center please use the following link to Kagoshima University's English Homepage
International Exchange, About our faculty International exchange